For a busy veterinary practice, learning to quickly adapt to an unexpected situation is crucial; improvising is necessary to make it through the many stressors veterinarians face on any given day. That being said, a clinic's efficiency is heavily dependent on the systems it sets in place and whether or not it has streamlined workflows.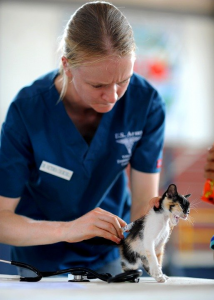 A disorganised and cumbersome process will not only affect you and your staff's output, but will also frustrate clients and negatively impact your bottom line.
With that in mind, we've prepared this guide to help you boost clinic efficiency by using veterinary management technology more systematically.
Take a look:
Refine Practice Management Software Protocols
With every case that comes to them, veterinarians have to administer the appropriate test, treatment, and medication.
Running through these processes takes a considerable amount of time. Having medical protocols written down for the staff to follow streamlines processes by improving consistency and efficiency. That's why it's best to incorporate these guidelines or groupings straight into your practice management software.
Medical groupings and protocols will also help improve compliance and fee capture. Make it a point to refine the treatment care plans that come pre-loaded in the software to suit your practice's specific needs and standards.
Here's a rundown of how establishing protocols and feeding them into your practice management software will help support your team.
When a client calls to inquire about your services—and to possibly book an appointment—your receptionist will be able to provide them with all the necessary information about testing and treatment options.
Technicians and other support staff members can retrieve a thorough medical history from the client, provide recommendations, and even perform baseline testing in line with the medical standards you've established in your clinic.
As the veterinarian informs the client about possible treatment options, technicians can anticipate and prepare estimates for recommendations for the client. After the client decides which treatment option to go for, the technical team and support staff can begin the treatment without having to consult or receive additional instructions from the veterinarian.
Identify and Remove Bottlenecks
A typical vet clinic relays a ton of information from the veterinarians themselves, to the staff members, to the clients, and back, resulting in a lot of lost minutes. Addressing this problem means identifying and eliminating communication bottlenecks. Automating communication goes a long way in improving efficiency and reducing lost time and energy.
If you're looking for a well-integrated vet management software from a reliable provider in Australia to improve efficiency, get in touch with us.
We are a premium provider of international veterinary practice management software in Australia. We offer user-friendly applications with customisable options that aren't available in your typical off-the-shelf software. We provide the latest in cloud-based veterinary software solutions and tailor them to your unique needs.
Contact us to learn more about our products and services. Call us at 855-600-1771.